There are 16 products.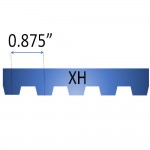 0.875" Pitch
Total Height: 0.44 in, Tooth height: 0.250 in
Timing belts and have a highly flexible neoprene backing that provides excellent abrasion and wear resistance.

Fabricated with fiberglass tensile cords to guarantee dimensional stability to eliminate take up adjustments.
Backing material provide protection against oil, grease, dirt and moisture.