There are 83 products.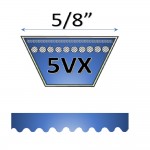 5/8" Width (top)
35/64" Height.
Temperature Resistance range is from -35C to +70C.
Ideal for applications where pulley diameters are extremely small, belt speed and power transmission levels requirements are high.
Reinforced with a low stretch tension member, made of high grade poly-chloroprene rubber compound for long life service.